Hearing God's Voice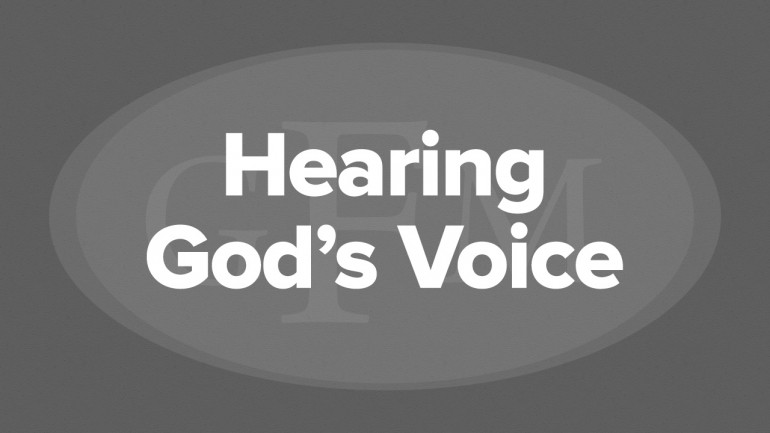 It is possible to hear God's voice and receive His direction in life. God's people are supposed to be led by His spirit. We do not have to guess our way through life, we can know His will.
Romans 8:14
For as many as are led by the Spirit of God, they are the sons of God.
This scripture does not say that every son of God is automatically led by His spirit, it says that if someone is led by the Spirit of God, they are certainly a child of God. Not all of God's children choose to listen for His direction, but they all have the opportunity to do so.
As Christians, living a life that is pleasing to God should be our greatest desire. To do this, we must receive His direction in our lives. It is easy to get off course. We all need to make adjustments from time to time. His Spirit can speak to us and keep us on course and out of danger.
Many times in life there are difficult decisions to make and we need help. The right choice is not always clear, we must learn to wait on God and listen for His instructions. In order to finish our course successfully, there will be times when we must get our instructions from Heaven. God has promised to help us.
Psalm 32:8
I will instruct you and teach you in which you should go and I will guide you with my eye.
We can get general directions from God's Word, such as, go into all the world and preach the gospel to every creature. (Mark 16:15) For specific instructions such as where to go, when to go, and who to go with, we need to hear from the Spirit of God. Only He can tell you where you're supposed to live, what church to go to or what job to take.
It's easier to lean to the understanding or the intellect when making choices in life and take what seems to be the most promising opportunities, but they may not always be the right choices. It's not always best to take the easiest road or the path of least resistance. It's impossible to know what lies ahead. It is possible to get directions from God and always make the right decision no matter what it looks like at the moment.
Proverbs 3:5-6
Trust in the Lord with all your heart and lean not on your own understanding. In all your ways acknowledge Him and He shall direct your paths.
Sometimes God's will does not make sense. However, if we will learn to listen for His voice and allow His voice in our heart to override the voice of reason in our own minds, then He shall direct our paths. The key to success in life is to have God direct our paths! Not only are we blessed but everyone around us is blessed when God directs our paths.
As we spend time seeking God this year, let's make it a point to hear His voice and obey what He says. Let's develop a listening ear and a spirit that is sensitive to His voice. These things come naturally as we spend quality time with God. As we hear and obey Him, life becomes different because He gains more and more control.
Let's look at several reasons people don't hear God's voice and remove some of the most common hindrances that people face when seeking God's direction.
1. He's not speaking.
Sometimes the reason we haven't heard from God about a decision we want to make or an area we need help with is that He hasn't spoken to us about it yet. We can't determine when God will speak on any given subject. We must pray and spend time waiting on God and let Him speak to us about whatever He wants.
There have been many times that I have prayed about one thing and God would talk to me about something else. He always gives us what we need, when we need it. Sometimes He's silent on a subject for a while and we must continue to walk by faith until He speaks. It is better to trust in His timing and wait on the Lord than to try to hear something that He's not saying. When the time is right He will speak and you will hear.
2. We aren't listening.
We must take time to hear from God. It's good to get quiet, the psalmist said, commune with your own heart upon your bed and be still. (Psa 4:4) Listen for the still small voice, He will not compete with the noises of the world. As we wait in prayer and worship, He speaks to our spirits and His will becomes known. Paul said His spirit bears witness with our spirit. (Rom 8:16) That is spirit to spirit communication, the original wireless method.
3. Our minds are made up.
Some folks only want God to confirm what they already want to do. Their prayers are aimed at trying to convince God and themselves that He is telling them to do what they have already chosen to do. This is getting the cart before the horse. God does not always tell us to do what we want. To hear His voice clearly we must be honest with God and honest with ourselves. Psa 51:6 says, He desires truth in the inward parts…
4. No commitment to His will.
If you want to hear God's voice you must determine to do what He tells you to do before you even know what it is. As we acknowledge Him in all our ways, then He will direct our paths. (Prov 3:5-6)
5. Uncertainty
Sometimes uncertainty can cause a lot of confusion. If you want to know God's will on a matter and think that maybe you have heard or maybe you haven't, then you are unsure. If you're thinking maybe this is God's will or maybe that is God's will, then you are uncertain. If you are uncertain, then you don't know. You don't have to move on something that is not certain. God's direction is sure, it's not shakey. If you don't know then just relax and admit you don't know. Tell the Lord you don't know and ask Him to tell you in a way that you can understand and know His will for certain.
6. Sin.
This is an obvious hindrance to anyone's prayer life, but it needs to be mentioned. If things aren't right between you and God, then get them right. If a person is living in sin or willful disobedience, it has a profound affect on their prayers. Your iniquities have separated you from your God; And your sins have hidden His face from you so that He will not hear. (Isa 59:2) It only takes a minute to get back into the center of God's will and release the flow of blessings and guidance that He has made available to every believer.
7. Dull of hearing.
Some have become dull of hearing according to Hebrews 5:11. This is caused by not spending time with God or time in His Word and by not doing what the Lord has told us to do in the past. The way to avoid this is revealed to us in Hebrews 5:14, those who are ready to hear are those who by reason of use have their senses exercised to discern both good and evil. We must exercise our spiritual faculties through prayer and receiving God's Word. This keeps us sharp and spiritually aware so that when God speaks we are ready to hear.
Let's follow the advice of Pastor Cho, the pastor of the world's largest church. When asked what his secret for church growth was, he said, "I pray and obey".