"Be imitators of God as dear children and walk in love, as Christ also has loved us and given Himself for us, an offering and a sacrifice to God for a sweet-smelling aroma." —Ephesians 5:1-2 
The context at the end of Ephesians chapter four and the beginning of chapter five is walking in love. We are to imitate God in His love walk. If we are going to imitate God, we must love and forgive the same way God does and the same way Jesus did. How did Jesus love us? He gave Himself for us and forgave us completely. And now, He refuses to remember our sins and failures. We are supposed to follow His example and do the same toward others. 
God loves and forgives so completely, He treats you as if you've never sinned.  
Have you ever come into God's presence to pray only to have Him remind you of your mistakes? Have you ever repented and heard God say, "Well, we'll see if it works this time." Have you ever come before Him to dedicate and consecrate your life and heard Him tell you how many times He's heard other people say the same thing and how many didn't keep their promises? Or have you ever decided to do something for God and heard Him say, "I don't believe you. I'm going to put you on probation until you prove it."   
The reason God's presence is such a desirable place is the total acceptance you feel there. God's not holding your mistakes against you, nor judging you based on His experiences with others.  
He believes you. He believes in you, accepts you and is ready to take you at your word. 
One of the most outstanding characteristics of God's love is its ability to withstand infinite amounts of abuse, betrayal, blame and mistrust without changing. I'm so glad God is not changed by our actions. If He was, He would be a basket case emotionally by now!  
He's certainly been treated badly by people throughout history, but He never complains. He doesn't ask, "Do you know how many people have broken their promises to me in the last 1,000 years?" Or "Do you know how many times my name has been taken in vain—today?" Or "Do you know how many times I've been accused of things I didn't do?" The examples are endless. 
 God has taken untold amounts of abuse and hatred from the very people he created. He has loved the whole world and given His only son for them. He wants the best for everyone, yet He's been hated, ignored, mischaracterized and worse. But instead of being bitter and angry, He's just as loving and trusting as before He created Adam and Eve. That's why, when you go into His presence, you feel no suspicion or mistrust toward you—only total love and acceptance. 
"Love bears up under anything and everything that comes, is ever ready to believe the best of every person, its hopes are fadeless under all circumstances, and it endures everything [without weakening]. Love never fails [never fades out or becomes obsolete or comes to an end]." —1 Corinthians 13:7-8 (AMPC) 
God's love never fails, changes, nor gives up. It isn't weakened by abuse nor bitter over hatred. God's love never changes, and you experience it every time you're in His presence.  
"… God is love, and he who abides in love abides in God, and God in him." —1 John 4:16 
God's love is your natural habitat. It's where you belong. It's in God, and it's also in you. 
To abide in love is to abide in God. To grow in God is to grow in love. To truly imitate God is to love as He loves!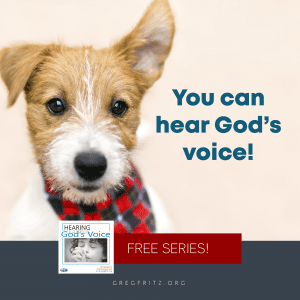 Get the FREE audio downloads and streaming video in the FREE DOWNLOADS section on my website. Just click on "Hearing God's Voice" and use code FREE at checkout!