Did you know you can operate in all the gifts of the Spirit and not be spiritually mature? 
One of the most surprising discoveries I've made while studying the subject of growing up in God is this: The barometer used to measure our spiritual maturity is love. 
Mighty displays of power and walking in spiritual gifts do not necessarily indicate spiritual maturity. Carnal Christians walking in envy, strife, division or any works of the flesh are not allowing the love of God to dominate their lives.  
"But earnestly desire the best gifts. And yet I show you a more excellent way." —1 Corinthians 12:31 
While instructing the Corinthians on the importance of spiritual gifts and their operation, Paul took a moment to put things into perspective. In 1 Corinthians, Chapter 13, he shows us this "more excellent way" by describing the unfailing love of God.  
The Greek word for this kind of love is "agape," and it means the unconditional love of God. Jesus was the first human to live in this world with the agape love of God inside of Him. He not only came to reveal love, but to also make it available to everyone through the new birth. Now this incredible force is in you!   
We know God has power, wisdom and knowledge, but the Bible says God "is" love (1 John 4:8). Nothing more accurately defines who God is than the word love.  
It's a common misconception that walking in love means turning the other cheek and just letting people walk all over you. But 1 Corinthians 13:8 says, "Love never fails." So love's way is not the way of weakness and defeat, but of strength and victory. 
Love triumphs over hatred and fear. It was the motivating force behind Jesus coming to Earth, and it compelled Him to give His life for us on the cross. 
Since God is love (1 John 4:8), growing in God means growing in love. So how do we grow in God?  
As we keep God's Word, His love in us develops and matures—it's perfected. Love's control over our lives grows stronger. It will be helpful to go to 1 Corinthians 13 and read verses 4-8 every day.  
Love suffers long and is kind; love does not envy; love does not parade itself, is not puffed up; does not behave rudely, does not seek its own, is not provoked, thinks no evil; does not rejoice in iniquity, but rejoices in the truth; bears all things, believes all things, hopes all things, endures all things. Love never fails. 
This agape love that never fails is the key to victory in this world. In fact, it's the most powerful force in the universe!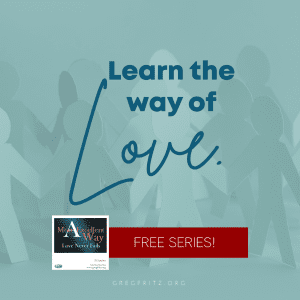 Get the FREE audio downloads and streaming video in the FREE DOWNLOADS section on my website. Just click on "A More Excellent Way" and use code FREE at checkout!