The Great Commission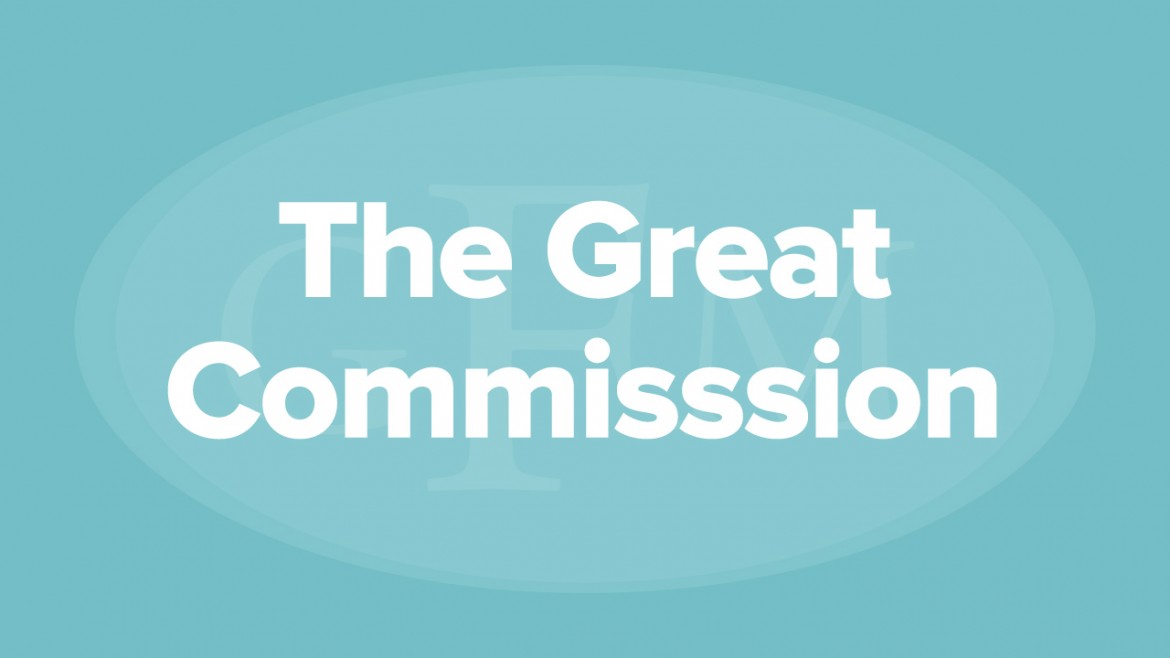 And He said to them, " Go into all the world and preach the gospel to every creature.  He who believes and is baptized will be saved; but he who does not believe will be condemned.  And these signs will follow those who believe: In My name they will cast out demons; they will speak with new tongues; they will take up serpents; and if they drink anything deadly, it will by no means hurt them; they will lay hands on the sick, and they will recover." Mark 16:15-18 (NKJV)
According to the Gospel of Mark, these are the last words spoken by Jesus to His disciples before He ascended and sat down on His throne in Heaven. We call this the Great Commission. The first thing to notice is that it is four verses long, not one verse. Some may define it as simply preaching the Gospel to every creature, but it includes much more than that.
In this Great Commission, Jesus is not only commissioning us (giving us a command), but He is authorizing and equipping us to take the Gospel to the World in power. The Great Commission literally makes us armed and dangerous!
It is important to look at the entire command in order to fully realize what we have been authorized to do. Jesus is giving direction to the Church for world harvest and at the same time transferring the authority and power to enable us to get the job done no matter what the obstacles. We must not stop reading at verse 15, but go on through verse 18 and fully embrace the entire command. By doing so, we can expect to deliver the message with the full power of God on display.
The Gospel was meant to be preached with power. In fact, in reading the New Testament, the Gospel was always accompanied by divine Healing and fleeing Devils. This theme is consistent from the ministry of Jesus in the Gospels to the sending out of the 12 in Luke chapter nine to the sending out of the 70 in Luke chapter ten right on through the book of Acts. The they all have these elements in common, Gospel preaching, divine healing and devils fleeing.
Lets take the main points of the Great Commission one by one realizing that this is the time and place where Jesus literally deputizes us (the Church) and transfers this power and authority to us. If we don't use it then it won't work. We must act as if Jesus meant what He said.
1. Go into all the world and preach the Gospel to every creature.
This is the mission. The world needs to hear the Gospel. God provided it and He expects us to share it. It's our message now and if we don't preach it, it won't get preached. Angels don't preach the Gospel, we have been commissioned to share the good news to the world. What a privilege!
Anybody who has been saved is ready to share this message. The message is Jesus. Who He is and what He did for the world. There are many ways to say it and to share it with others but the main points are always the same. Paul summed it up in 1 Corinthians 15:3-4,"For I delivered to you first of all that which I also received: that Christ died for our sins according to the Scriptures, 4 and that He was buried, and that He rose again the third day according to the Scriptures."
That's our message. That's what the world needs. It is the power of God unto salvation. Thank God for the Gospel! In the book of Acts chapter 8 we see the Great Commission in action in the ministry of Phillip:
Then Philip went down to the city of Samaria and preached Christ to them.  And the multitudes with one accord heeded the things spoken by Philip, hearing and seeing the miracles which he did.  For unclean spirits, crying with a loud voice, came out of many who were possessed; and many who were paralyzed and lame were healed.  And there was great joy in that city. Acts 8:5-8
There it is, Gospel preaching, Divine healing and devils fleeing. We have the same commission, the same authority!
Now we come to the signs that are to follow believers, not just preachers but every believer. They are just as much a part of the Great Commission as the preaching of the Gospel. Authority works, but if we don't use it, it won't work. If we don't preach the Gospel it won't get preached, if we don't cast out devils, they won't be cast out, if we don't speak in tongues it won't happen, if we don't lay hands on the sick, they won't get healed. The Great Commission is made up of things we "do". They won't work if we don't do them.
2. Cast out Devils
Jesus did not tell us to go looking for devils. We aren't on a hunt for devils. We were told to preach the Gospel. That is our mission. While doing that, devils may rise up. If they do we cast them out. They don't dictate what we do, we dictate what they do. They don't cast us out, we cast them out. It's nice to know that we don't have to suspend our mission when a devil shows up.
We are not to be devil conscious, but we are ready when the time comes to stand against all the powers of darkness. When souls are being saved and bodies are being healed there are devils fleeing the scene whether we are aware of them or not. Luke 4:40-41:
When the sun was setting, all those who had any that were sick with various diseases brought them to Him; and He laid His hands on every one of them and healed them.  And demons also came out of many, crying out and saying, "You are the Christ, the Son of God!"
Jesus commissioned 70 disciples in Luke 10 to heal the sick and preach the Kingdom of God. When they returned they had this to say,
Then the seventy returned with joy, saying, "Lord, even the demons are subject to us in Your name." Luke 10:17
In the process of doing what He sent them out to do they encountered devils and so will we at times. Jesus went on to say:
Behold, I give you the authority to trample on serpents and scorpions, and over all the power of the enemy, and nothing shall by any means hurt you. Luke 10:19
We see this also in the ministry of Phillip in Acts 8:7, For unclean spirits, crying with a loud voice, came out of many who were possessed; and many who were paralyzed and lame were healed.
And the Apostle Paul:
Now God worked unusual miracles by the hands of Paul, so that even handkerchiefs or aprons were brought from his body to the sick, and the diseases left them and the evil spirits went out of them. Acts 19:11-12
3. Speak with new tongues
In Luke 24 the last thing Jesus told the disciples to do was to go back to Jerusalem and wait for the promise of the Spirit. Even though they had a huge task ahead in reaching the world with the Gospel, they were told to tarry for the Holy Spirit. In Acts 1:8 he reminded them of this important promise:
But you shall receive power when the Holy Spirit has come upon you; and you shall be witnesses to Me in Jerusalem, and in all Judea and Samaria, and to the end of the earth."
This power will make us witnesses. And the first characteristic of this gift was speaking in other tongues. Jesus associated the power of the Holy Ghost with the ability or power to witness. Nothing causes a believer to walk in the power of God like praying in other tongues. This gift was given to us to use. What a difference it makes! 1 Corinthians 14:4 says, "He who speaks in a tongue edifies himself…"  Jude 20 says, "But you, beloved, building yourselves up on your most holy faith, praying in the Holy Spirit…"
Nothing prepares a believer for the Great Commission like praying in the Holy Ghost!
I need to use a little space here to mention "taking up serpents" and "drinking any deadly thing". I believe these two signs can be interpreted literally and figuratively. First of all Jesus did not say that believers would play with poisonous snakes in Church. The Greek word for "take up" is also the same word used for "cast off" or "put away". So what He is really saying is believers will cast off or put away serpents. There is a great example of this in Acts 28 when Paul was bitten by a deadly snake and shook it off into the fire.
To me, these promises illustrate God's protection as we go forth to take the Gospel to the world. As long as we are doing His work, all authority is given to us so that no devil, no snake, no poison or any other enemy or obstacle can keep us from our mission!
4. Lay hands on the sick and they shall recover
This sign above all the others accompanied the preaching of the Kingdom throughout the Word of God. It seems God has joined healing and forgiveness together throughout the scriptures. It is no accident that the preaching of the Gospel, which is mentioned first and laying hands on the sick, which is listed last, are like bookends for the Great Commission. And what God has joined together let no man separate.
In Matthew 4 we see Jesus "went about preaching, teaching and healing." It is a holy and personal thing to pray for the sick by the laying on of hands. It's part of what we are authorized to do. We are just as qualified to lay hands on the sick as we are to share the Gospel.
You don't have to be a healing evangelist to lay hands on the sick. In some cases the door is wide open to minister to a sick person. Many times it would be much easier and less awkward to ask a person who is sick and suffering if they would like prayer than to ask a complete stranger if they know where they'd go if they died tonight. Let's determine to use all of our weapons.
We have plenty of examples of this in the Bible. First let's look at the ministry of Jesus:
When the sun was setting, all those who had any that were sick with various diseases brought them to Him; and He laid His hands on every one of them and healed them.  Luke 4:40
But when Jesus saw her, He called her to Him and said to her, " Woman, you are loosed from your infirmity."  And He laid His hands on her, and immediately she was made straight, and glorified God. Luke 13:12-13
Then the Apostles:
And through the hands of the apostles many signs and wonders were done among the people. And they were all with one accord in Solomon's Porch. Acts 5:12
The Apostle Paul:
And it happened that the father of Publius lay sick of a fever and dysentery. Paul went in to him and prayed, and he laid his hands on him and healed him.  Acts 28:8
And now us! We shall lay hands on the sick and they shall recover!  It worked for them and it will work for us, the Word says so.