God's Word urges us to pray the prayer of faith for things we need and desire.
Over and over again, Jesus invites us to ask:
And whatever you ask in My name, that I will do, that the Father may be glorified in the Son. If you ask anything in My name, I will do it. —John 14:13-14
If you abide in Me, and My words abide in you, you will ask what you desire, and it shall be done for you. By this My Father is glorified, that you bear much fruit; so you will be My disciples. —John 15:7-8
"Again I say unto you, that if two of you shall agree on earth as touching anything that they shall ask, it shall be done for them of my Father who is in heaven. For where two or three are gathered together in my name, there am I in the midst of them." —Matthew 18:19-20
For assuredly, I say to you, whoever says to this mountain, 'Be removed and be cast into the sea,' and does not doubt in his heart, but believes that those things he says will be done, he will have whatever he says. Therefore I say to you, whatever things you ask when you pray, believe that you receive them, and you will have them. —Mark 11:23-24
Once you have taken the position of faith by agreeing in prayer, praying the prayer of faith or speaking the word of faith, it's time to stand.
Standing in faith is something every believer must do. When the manifestation doesn't happen immediately, the time between the conclusion of the prayer and the manifestation of the answer is occupied by the stand of faith.
Therefore take up the whole armor of God, that you may be able to withstand in the evil day, and having done all, to stand. Stand therefore…. —Ephesians 6:13-14
Many other scriptures speak of this principle:
First Corinthians 15:1 says, "Moreover, brethren, I declare to you the gospel which I preached to you, which also you received and in which you stand…."
First Corinthians 16:13 says, "Watch, stand fast in the faith, be brave, be strong."
Second Corinthians 1:24 says, "Not that we have dominion over your faith, but are fellow workers for your joy; for by faith you stand."
It is a privilege to stand on the promises of God as our forefathers did before us. By standing on the promises, we are following those who through faith and patience inherited the promises.
Our job is to do the believing and God will bring the answer. According to Mark 11:24, once you believe that you receive when you pray, the stand begins. The promise is "you shall have them."
From that moment until the manifestation, we take our position in faith and refuse to back down. Don't look at the clock; timing is not our responsibility. We are believers. We do the believing, and God delivers the answer. Abraham, Moses, Noah, Joseph and many others, stood in faith for years. To follow their examples, we may have to do the same—especially in areas that pertain to destiny or calling. The scriptures encourage us to persevere in the faith because the temptation to give in or give up will certainly present itself.
Therefore do not cast away your confidence, which has great reward. For you have need of endurance, so that after you have done the will of God, you may receive the promise: —Hebrews 10:36
It takes endurance to stand in faith, but we can do it or the Word wouldn't have told us to. Paul gives more insight in Ephesians:
Put on the whole armor of God, that you may be able to stand against the wiles of the devil. —Ephesians 6:11
The enemy will try to get you to give up and back down. Thoughts like, "It's never going to happen" or "If God was going to do it, He would have done it by now" are common lies the enemy uses to discourage those who are standing in faith. He can't defeat you outright so he tries to get you to give up and quit.
Keep standing! It's not over yet; if you don't quit you don't lose.
It may seem as if you aren't doing enough to bring your answer to pass. But you must realize that you already have the answer by faith, and it's already been purchased by Jesus. You are not earning a blessing; you are simply receiving something from God that He has already provided. By standing, you are taking a place of authority. You are taking a position of victory on a piece of spiritual real estate that already belongs to you.
Years ago, I visited Buckingham Palace in London. I was fascinated with the British soldiers who guarded the palace. They were well armed and authorized to resist any intruder by force. They were immaculate, dressed in their red coats and their tall black hats with weapons at the ready. They were well-trained and disciplined, however, they never fired a shot or took on an enemy troop the entire time I was there. They spent nearly the entire day standing.
There was no need to fire on enemy troops because they weren't trying to win a war for that land. The battle for England had already been fought. The enemy had been defeated long ago. That land belongs to Britain. All that was necessary was to take a position of authority to ensure that no one would try to take it away.
When you pray the prayer of faith for something God has promised, it's already done, the battle was fought long ago. The thing you prayed for belongs to you; you have it now by faith. There is no need to refight that battle.
It's time to take a position of authority by taking your stand in faith. Having done all to stand, stand, therefore!
The battle may rage in your mind with arguments and imaginations. Just cast them down and realize this is part of the process.
…casting down arguments and every high thing that exalts itself against the knowledge of God, bringing every thought into captivity to the obedience of Christ. —2 Corinthians 10:5
Stand and Praise
Unlike the British guards who are under orders to be silent and to be successful in the stand of faith, you must not stand silently. While you're standing, stand and praise. The prayer of faith must be followed by praise. Praise and thanksgiving are to be expected from someone who has received what they've prayed for.
Be anxious for nothing, but in everything by prayer and supplication, with thanksgiving, let your requests be made known to God; —Philippians 4:6
Praise and thank God as if you have already received your answer. Act as happy and joyful as you would if you had it—because you do.
Because Your lovingkindness is better than life, My lips shall praise You. Thus I will bless You while I live; I will lift up my hands in Your name. —Psalms 63:3-4
Praise is a powerful weapon; it is 100% faith.
You can't have thoughts of doubt while you're speaking words of praise. Make praise a part of your daily life. Specifically for the things you are believing for.
Stand and Speak
While you're standing, stand and speak. Follow up praises with the confession of faith. Say what you believe, and confess the promises of God on which you are standing. Speak of them in the present tense because faith is now. It's mine. I have it now!
And since we have the same spirit of faith, according to what is written, "I believed and therefore I spoke," we also believe and therefore speak…. —2 Corinthians 4:13
Speak the Word and Refuse to be Discouraged
Seeing then that we have a great High Priest who has passed through the heavens, Jesus the Son of God, let us hold fast our confession. —Hebrews 4:14
Hold fast to your confession with perseverance and endurance. Continue to say what you believe and refuse to say what you see or feel. When a person only confesses what they see, they are destined to have more of the same. Break out of the cycle of doubt and unbelief and speak words of faith.
And they overcame him by the blood of the Lamb and by the word of their testimony, and they did not love their lives to the death. —Revelation 12:11
It's important to learn to enjoy the journey of faith. In fact, there should always be things in your life you are standing for in faith. Don't be discouraged because you haven't seen God do everything He has promised. You should rejoice because you are taking your place with others who have believed in days gone by.
That you do not become sluggish, but imitate those who through faith and patience inherit the promises. —Hebrews 6:12
Many have been where you are right now, and many have done what you're doing. Today, it's your turn to stand on the promises of God.
Pray big, believe big and receive big things from God!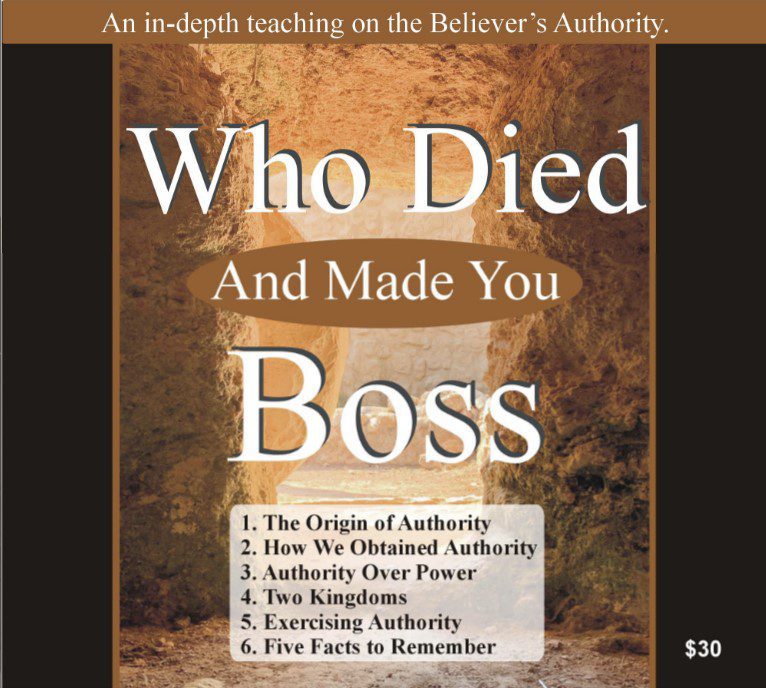 Get your FREE AUDIO SERIES, Who Died and Made You Boss, today! Use Code: AUTHORITY23 at checkout.