Word Power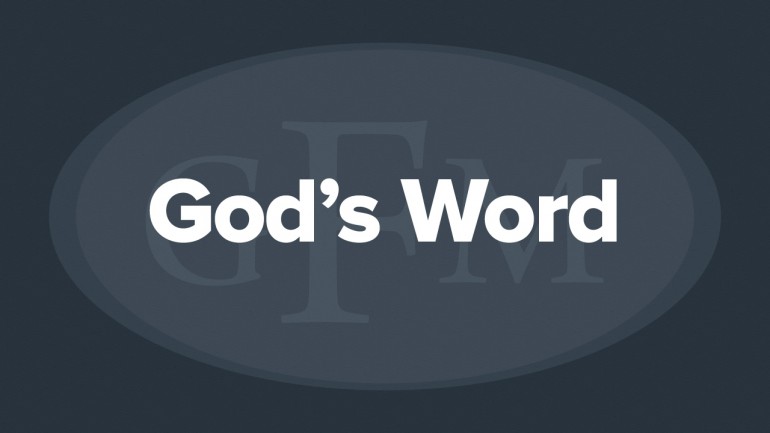 The secret to success is no secret. God has revealed it for all to see. God's recipe for success in life and ministry or any other endeavor, has become especially clear to me in recent months. I would like to share with you the most important thing God taught me during my sabbatical. This truth is first seen in the book of Joshua.
Joshua 1:8 This Book of the Law (God's Word) shall not depart from your mouth, but you shall meditate in it day and night, that you may observe to do according to all that is written in it. For then you will make your way prosperous, and then you will have good success. NKJV
Our success in life and our progress along the path He has chosen for us is directly affected by our relationship with God's Word. The Bible is the key to our success. In another scripture He says,
Psalms 1:1-3 Blessed is the man Who walks not in the counsel of the ungodly, Nor stands in the path of sinners, Nor sits in the seat of the scornful; 2 But his delight is in the law of the LORD (God's Word), And in His law he meditates day and night. 3 He shall be like a tree Planted by the rivers of water, That brings forth its fruit in its season, Whose leaf also shall not wither; And whatever he does shall prosper. NKJV
The Psalmist said the man who meditates in the Word day and night would be like a tree planted by the rivers of water. That means this person will not wither even if there is a drought. And they will bring forth fruit in their season. That means they get paid even in recession, they do what they were born to do even in tough times. Their success is not dependent on the environment or the economy.
The person who meditates on God's Word day and night (makes it a part of their everyday life) will succeed and whatever they do will prosper. This is what everyone wants. Millions of dollars are spent every year so that people can learn how to succeed and prosper. God tells us how to do it in His Word for free. If the formula were more complicated or sounded more sophisticated it might be more attractive to the natural mind. But God's way is simple and anyone can do it. You don't need a product packet from an infomercial or a seminar with Donald Trump. The key is your interaction with the Bible, which you already own.
What is it about God's Word that produces success? First of all it's not an ordinary book. Jesus said, my words are spirit and they are life. There is something powerful contained in God's Word that you need.
Jeremiah 15:16 says,
Your words were found, and I ate them, And Your word was to me the joy and rejoicing of my heart…
When you eat food, what's in the food gets in you. This is the key to your being healthy and strong physically. When you feed on God's Word, it gets in you.
1 Peter 2:2 …as newborn babes, desire the pure milk of the word, that you may grow thereby NKJV
God's Word contains life and power, wisdom, success and everything you need to be wise and discerning, to overcome temptation and to make the right decisions in life. When you feed on it, heavenly nutrients empower you.
This is not a works program. You are not awarded with success just because you read your bible every day. God is not withholding success from you until you read so many chapters and spend so many hours in His Word.
Proverbs 4:22 says (God's Words) are life to those who find them, And health to all their flesh. NKJV
When the Word gets in you, life and health and many other good things come out of it and go into you.
God's Word is the fuel you need to succeed in life. Without fuel the greatest champions and the most innovative inventions would fail. I'm concerned that many Christians today are undernourished. I believe one reason we've seen so much failure in the church is a lack of power that only the Word of God can give.
If a man is stumbling down the street, weak and emaciated, unable to walk but a few steps before falling to the ground, barely able to put one foot in front of the other. You could give him a book on how to walk and not stumble. It could explain to him the value of walking and how to walk properly. It could cover why it's not good to stumble and fall down. And he could agree with it and make the decision to walk right from now on. He could get his motives right and get headed in the right direction, but if he hasn't had solid food for three months and is on the verge of starvation, he won't be able to do what he knows he should do. If he just had a few healthy meals he might straighten himself out without the book.
It takes more than will power to live life. You need fuel to do what you have chosen to do in life and nothing else will work in its place.
Many times our efforts to correct our failures are directed only to the power of the will. We rededicate and reconsecrate. Why? Because we didn't do what we had already decided to do. While the will is a powerful thing, it is not enough by itself to put you over. Will power alone is not enough to live the Christian life. Good motives, a wonderful salvation experience and a true love for God are not enough by themselves to insure success. It's the man who meditates the Word day and night who will prosper. You need "Word power" to enforce your "Will power".
The Bible does not say that if you want it bad enough you will succeed or if you will it to happen you'll make your way prosperous. If it did then all you would need to do to perfect your walk and increase your level of success would be to want it more. Christians already want to do right and have made the decision to follow God's plan for their lives. The secret to God's success is not to want it more or decide what you've already decided again, but to fuel those choices and your recreated spirit with the Word of God. Within those words is found the ingredients that are essential for success.
There is not much emphasis on God's Word. It has become popular to try appeal to the world by making the message more "relevant" to today's culture. If relevance is achieved by taking God's Word out of the process then I don't want relevance. The Word of God will never be attractive to the natural mind. If we're not careful, we'll starve the Church while trying to appeal to the world.
Develop an appetite for the Word and be aware of the Word content in the materials you read and the programs you listen to. Not everything labeled Christian will feed your spirit. Some books and programs were designed mainly to inform not to feed. It's important for us as Christians to be informed but it's more important to be fed. We need to know the difference. The necessary ingredient is the Word of God. He tells us to meditate in the Word day and night. That means more than just hearing it on Sundays.
Make sure you get a steady diet of the Word. Spend some time in it every day. Don't let the phrase "meditate in His Word day and night" scare you. You don't have to quit your job and live in seclusion to meditate the Word properly any more than you have to quit your job and stay home all day to eat properly. Most people eat "day and night" and still have a life!
I believe that this simple truth of feeding on God's Word as faithfully as we eat natural food would solve a multitude of problems in the church today.
Deuteronomy 8:3 man shall not live by bread alone; but man lives by every word that proceeds from the mouth of the LORD. NKJV
Could it be that many are malnourished and underfed? If so, could that be why we've seen so many fail or quit or fall into temptation?
Every time there is another Christian book written to deal with yet another failure or the latest emotional disorder, there is always the obligatory reminder to pray and read the Bible. But most of the time it is only a footnote. I think it should be the main subject. Most people don't need to be more convinced that wrong is wrong, what they need is the fuel to what they have already chosen to do.
Read the Word of God, feed on it every day. Spend some time building yourself up in God's Word and go ahead and make your way prosperous and have good success. This simple process is changing my life. I have put more emphasis on feeding on His Word and I'm seeing the benefits. In the future I want to give you some practical teaching on how to feed on God's Word. It's not complicated and the Bible gives some very practical ways to get the Word out of the Bible and into you!