How to Have What You Believe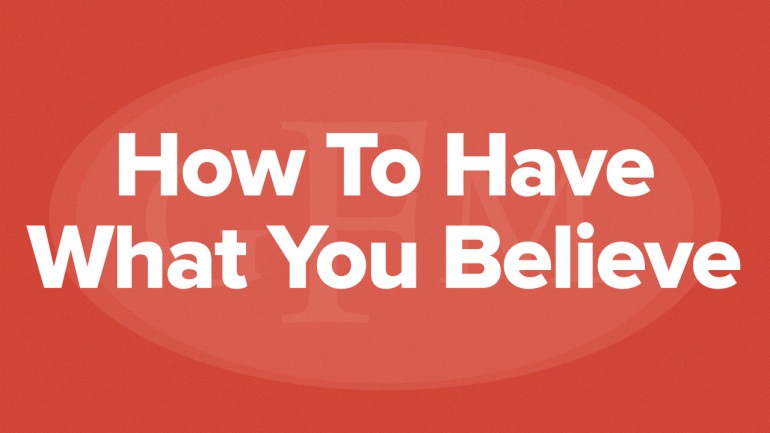 We are given many examples in the Gospels of individuals who received miracles from Jesus. These examples were hand picked from possibly thousands according to the apostle John who said, if everything that Jesus did was written down, the world itself could not contain the books. We can learn important lessons from each account. That's why they were chosen for the Gospels.
I want to look at the woman with the issue of blood in Mark chapter 5. She received her miracle without Jesus even knowing who she was or that she was coming. Jesus told her that her faith had made her whole. Her example is one we can follow today, because faith still works the same way. Notice Mark 5 verse 28,
For she said, "If I only may touch His clothes, I shall be made whole."
The Amplified Bible says, "She kept saying…" That is the part of faith that I believe is most overlooked and most underused. What do you keep saying? She kept saying, "If I touch His clothes I shall be made whole." She didn't just say it one time at church or for one day. When you keep saying what you believe you allow your faith to grow. The things you keep saying are the things you will eventually experience.
It's very difficult to help someone on Sunday when they've been complaining and voicing their feelings for last weeks or even months. This woman had been saying the right things before she touched Jesus. She did her homework. You may establish your beliefs on Sunday, but your confession goes on all week long. What do you keep saying?
Mark 11:23 says,
"Whosoever shall say to this mountain, Be thou removed and cast into the sea and does not doubt in his heart, but believes that those things he says will be done, he will have whatever he says."
This is such a critical part of faith. Bible faith is made up of two elements, believing in the heart and saying with the mouth.
Romans 10:9-10
That if you confess with your mouth the Lord Jesus and believe in your heart that God has raised Him from the dead, you will be saved.  For with the heart one believes unto righteousness, and with the mouth confession is made unto salvation.
2 Corinthians 4:13
And since we have the same spirit of faith, according to what is written, "I believed and therefore I spoke," we also believe and therefore speak.
Hebrews 13:5-6
Let your conduct be without covetousness; be content with such things as you have. For He Himself has said, "I will never leave you nor forsake you." So we may boldly say: "The LORD is my helper; I will not fear. What can man do to me?"
If you've been in a good church for a while and have heard the full gospel message, you probably believe the right things already. We probably all agree concerning the doctrines of Salvation, Healing, the Holy Spirit, Prosperity, Victory in Christ and many others. It's wonderful to believe these great truths that we've heard and embraced. There are many who believe the right things, but they aren't experiencing them. The bible doesn't say you'll have what you believe. It says in Mark 11:23, you will have whatever you say. Of course you have to believe it, but you have what you say.
Let's imagine putting all the great bible truths you've heard and believe in a pie chart. Let's say the entire pie, 100%, represents everything you believe, that would be a pretty big pie! If you were to automatically experience everything you believe, you would be enjoying 100% of everything in that chart right now.
According to Mark 11:23, you have what you believe after you say it. You have what you say! The part of your faith you experience is the part you say and keep saying. What do you keep saying? You can't speak poverty and experience prosperity. You can't speak defeat and live in victory.
When you hear a gospel truth for the first time it can have quite an impact. When a new revelation from God's Word comes, it's an awesome experience. You can give up wrong beliefs and old thinking in an instant. When that happens, you've got it. That truth becomes yours, it's established in your heart and though you may get further light on the subject, you will probably hold that belief for the rest of your life. The biggest variable is your confession.
Faith's confession is the area that requires the most maintenance. You can go along really well for a while and then just lose it! It's not what you said five or ten years ago when you saw a bible truth for the first time that will put you over today. What are you saying about it now? Are your words reflecting your faith or your feelings?
Your belief in God's Word may be consistent, but it must be followed up with a consistent confession. If a person is moved by circumstances, their confession can be right one day and wrong the next. It's the biggest variable in the fight of faith. We must train ourselves to say what we believe and not what we feel or see.
We are imprisoned or liberated by the words we speak. Death and life are in the power of the tongue. (Prov 18:21). Put your words to work for you and don't allow them to work against you any longer.
James 3:4-5 says,
Look also at ships: although they are so large and are driven by fierce winds, they are turned by a very small rudder wherever the pilot desires. Even so the tongue is a little member and boasts great things. See how great a forest a little fire kindles!
According to the bible, your tongue is like the rudder on a ship. It's a small member but it has great influence. It determines the direction of the ship. The Words you speak may seem unimportant to you. You may wonder if they really make that much difference. You may think, God knows my heart and that's all that matters. This reasoning does not hold up using the rudder analogy.
It doesn't matter what's in the captain's heart. If the rudder is turned the wrong way, the ship will go in the wrong direction. If there are areas of your life that are going the wrong direction, change the direction of your rudder.
You can put an army of words to work for you every day. This is a principle that doesn't take any more time from your schedule and you don't need to hire anyone to help you. You already talk all day, just make sure you say what you believe and not what you feel or see.
It's so easy to say, "I don't know how I'm going to make it", "I don't have anyone to help me", "What am I going to do?" Just turn it around with your own words. Say "I can do all things through Christ", "My God supplies all my needs", " I'm going to make it". Spend time saying what you believe and you will have it! If all you ever say is what you feel or see, then you're a prisoner to your circumstances and you have no power to change them. When you begin to say what you believe, you will see the circumstances begin to change.
If God was like a lot of people in the world today, in the beginning He would have said, "It sure is dark out here". Nothing would have changed. He said, "Let there be light" while it was still dark.
You probably don't need to do too much in the area of believing, it's your speaking that needs an extreme makeover. Get started now and change the world around you!
---
Learn More About This Subject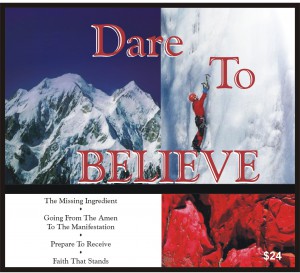 For more teaching on this subject purchase the four-part series
Dare to Believe
. This teaching will help you establish solid faith principles in your life and prepare you to believe God for whatever you need. This series contains some of the best teaching I've done on the subject of Faith.
Just click here to purchase your copy online or you can call us at (918) 749-7744 and order over the phone.