Supernatural Protection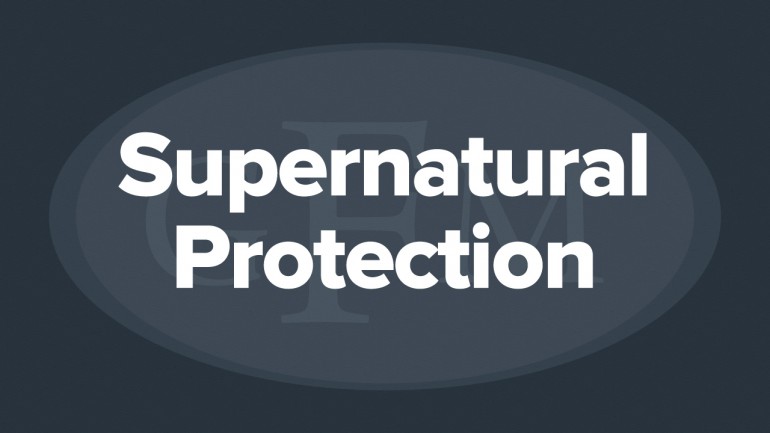 As He approached His destiny, Jesus spoke these words in John 12:27,
Now is my soul troubled and what shall I say? 'Father save me from this hour?' But for this purpose I came to this hour.
Though He saw the storm clouds approaching He refused to be intimidated. It's not wrong to be concerned or troubled about the future, but it is important how we react to our concerns.
We have a right to be here. Jesus said it best, 'for this purpose we came to this hour'. As the world gets darker, the church should let the light shine even brighter. In the midst of upheaval and chaos in the natural realm, the political realm and the economic realm, we are here for a reason. We can live and thrive and do the will of God.
We have the promise of His supernatural protection and His supernatural provision in this life. We need to count on these precious promises more than ever before. In the end, it's not the police force or the military or the government that we should trust. God is our protector and God is our provider. If we could settle those two concerns once and for all, we would be a lot happier.
God always takes care of His people. You may wonder why you've never seen a miracle like the ones we are told of in the Bible. It's probably because you've never needed one. God parted the Red Sea, brought water out of a rock and sent manna down from heaven. These are miracles, divine intervention, for the provision and the protection of the people of God.
He still knows how to do these things but they are not for our entertainment. Israel was in real danger each time God performed a miracle. You will never see God bring water out of a rock when you have running water in your kitchen or manna from heaven when you have food in the pantry.
Psalm 91 tells us what to expect from God in the area of protection. This is a Psalm full of protection promises that God made to us and they will work for any child of God who believes them or mixes faith with them. He tells us how to mix faith with these promises in verse 2,
I will say of the LORD, "He is my refuge and my fortress; My God, in Him I will trust."
To make Jesus your savior according to the scriptures, you have to believe in your heart and confess with your mouth that Jesus is Lord. (Rom 10:9) To make Jesus your protector, you believe in your heart and confess with your mouth
"He is my refuge and my fortress; My God, in Him I will trust."
Divine protection is like any other area of faith in the Word, you have to say what you believe and not what you see. As crime goes up and terrorism is on the rise and natural disasters increase around the world, we can say of the Lord, "He is my refuge and He is my fortress."
The following verses in Psalm 91 are the most all-inclusive promises regarding protection found anywhere in the world. I wouldn't believe these promises if God hadn't made them Himself. But He made them and He is able to keep them in your life if you'll only believe. Psalm 91:3-4:
Surely He shall deliver you from the snare of the fowler And from the perilous pestilence. He shall cover you with His feathers, And under His wings you shall take refuge; His truth shall be your shield and buckler.
He will deliver you, cover you and give you refuge. "The Snare" literally means bird trap, but it also means calamities, plots, or agents of calamity. Under His wings we take refuge or "flee for protection".
Verse 5: "You shall not be afraid of the terror by night, Nor of the arrow that flies by day…"
He tells us not to be afraid of terror or the terrorist by night. We don't have to dread terrorism, God can protect us. He does not want us laying in bed at night afraid of anything or anybody. Or the arrow that flies by day. That reminds us of a more simple time on earth.
Today we have bullets, missiles, dirty bombs, suicide bombers, chemical warfare, nuclear warheads… But God is greater than them all. His promise to protect us is greater than the power of the weapons and the enemies who want to destroy us. It honors Him when we believe that. Verse 6 says:
Nor of the pestilence that walks in darkness, Nor of the destruction that lays waste at noonday.
Now we come to pestilence or plagues. I wouldn't be surprised if new plagues attack the world in the last days. It is possible that new diseases or new strains of viruses will break out that are incurable and untreatable. We are told that we should not be afraid of them when they come. God is our refuge and He is our fortress, He is our deliverer!
It is human nature to try to insure that we never need a deliverer, but the truth is there are dangers in our world that are greater than we are and there will be times when we need a deliverer. Thank God we have one.
Notice He spoke of terror at night, arrows by day, pestilence and destruction. He never said these things wouldn't happen, He did say, when they do, don't be afraid of them. Verse 7-8:
A thousand may fall at your side, And ten thousand at your right hand; But it shall not come near you. Only with your eyes shall you look, And see the reward of the wicked.
I have heard people say, "what makes you think it won't happen to you." The answer is the Bible. I would never have assumed such a thing on my own. God said it shall not come near me. I choose to believe God. He has delivered before, He can do it again! Verses 9-10:
Because you have made the LORD, who is my refuge, Even the Most High, your dwelling place, No evil shall befall you, Nor shall any plague come near your dwelling;
We can stand against evil and stand against plagues (sickness and disease). Maybe you have had some of these things happen. That doesn't change God's promises. We should stand against these things with the authority of God's Word. Don't just give up when evil or sickness comes, resist it. God will back you up when you stand on His Word. Verses 11-13:
For He shall give His angels charge over you, To keep you in all your ways. In their hands they shall bear you up, Lest you dash your foot against a stone. You shall tread upon the lion and the cobra, The young lion and the serpent you shall trample underfoot.
His angels are here to perform His Word on our behalf. As if the promises of God weren't enough proof by themselves He gives us insight into the spirit world where angels are constantly working for us to protect us from all forms of evil and every kind of attack.
Now we come to the wonderful conclusion of this powerful Psalm as God speaks directly to us as those who love Him and put our trust in Him in verses 14-16.
"Because he has set his love upon Me, therefore I will deliver him; I will set him on high, because he has known My name. He shall call upon Me, and I will answer him; I will be with him in trouble; I will deliver him and honor him. With long life I will satisfy him, And show him My salvation."
Only God could make promises like these and only God can keep them. If we will love Him and actively put our trust in Him, He will bless us with a long, fruitful, productive life. A life the world didn't give to us and the world can't take away!
---
Learn More About This Subject