The Good News Is So Good…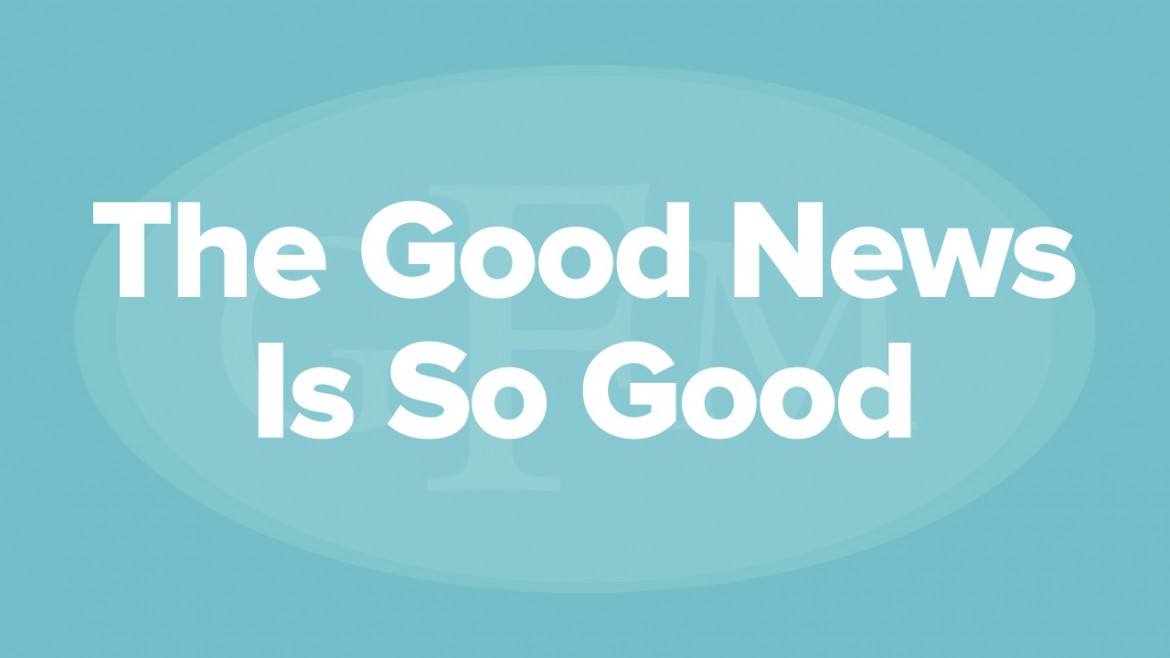 Where sin abounds, grace does much more abound! (Romans 5:20) We know the Bible is true, but it appears that sin is out doing grace in our world all the time. It seems that sin continues to abound and at times the bad news can be overwhelming. How is it possible for grace to be abounding much more than sin?
When it's sin versus grace, grace wins hands down. (The Message) Is this true or do we tell people that just to make them feel better?
What God did for mankind through Jesus far exceeds what Satan did to mankind through Adam. In Romans 5 the Apostle Paul makes this point over and over again.
The truth is, Grace has already won. Jesus has already defeated the enemy, God is greater than Satan, Righteousness is greater than sin and greater is He that is in you than he that is in the world.
Things may not appear that way and this is why: Sin has been going full speed ahead for over 6000 years. It is in full manifestation, all around us, every day. But the church has only received a down payment of the Grace of God, the full payment is yet to come!
2 Corinthians 1:21-22
Now He who establishes us with you in Christ and has anointed us is God, who also has sealed us and given us the Spirit in our hearts as a guarantee.
That word guarantee in Strongs greek dictionary means, down payment.
2 Corinthians 5:5
Now He who has prepared us for this very thing is God, who also has given us the Spirit as a guarantee. (down payment)
According to these verses and others, we have only received the down payment of our inheritance.
Ephesians 1:13-14
In Him you also trusted, after you heard the word of truth, the gospel of your salvation; in whom also, having believed, you were sealed with the Holy Spirit of promise, who is the guarantee of our inheritance until the redemption of the purchased possession, to the praise of His glory.
Usually a down payment is smaller than the full payment. it is a portion of more yet to come. We have received the down payment until the redemption of the purchased possession. There is more to come, much more!
We teach and preach mostly about the down payment. And the down payment is so good it's almost hard to believe. Our new birth is just part of the down payment. The gifts of the Spirit are part of the down payment, our deliverance from the kingdom of darkness, the infilling of the Holy Spirit, Divine healing and God's supernatural provision are all part of the down payment. In fact, the most powerful part of the down payment we have received has happened in the spirit. In our spirits through the new birth.
The world around us can't see the dramatic changes that have occurred in our lives due to the new birth and the gifts of God in us. They may be tempted to think that God isn't doing anything in the world today. Or that there is no God or if there is a God He's detached and uninterested in our lives. But that's not true.
He's working in us. What He's done in His children is revolutionary, life changing and eternal. And what's happened so far is nothing compared to what He's going to do.
1 Corinthians 2:7-9
But as it is written: "Eye has not seen, nor ear heard, Nor have entered into the heart of man The things which God has prepared for those who love Him."
The truth is that the Good News is the best news on the planet. God through His grace has so thoroughly defeated sin and Satan that one day there won't be any evidence that they even existed!
The Good News is so good the bad news doesn't matter! If you are a Christian, the bad news won't last forever but the Good News will! You've heard this before and it is true,"the best is yet to come"!
Romans 8:22-23
For we know that the whole creation groans and labors with birth pangs together until now. Not only that, but we also who have the first fruits of the Spirit, even we ourselves groan within ourselves, eagerly waiting for the adoption, the redemption of our body.
There are great things yet to come. One of them is the redemption of our bodies. We are going to get new bodies. Grace has already paid for them and they are part of the full payment yet to come.
Paul says we groan until we get our new bodies. In the Greek it means we are "groaning together" until our bodies are released from the effects of mortality. There will be no more sickness, disease or death in our new bodies. Our new bodies won't get tired or age or grow old.
2 Corinthians 5:4-5
4 For we who are in this tent groan, being burdened, not because we want to be unclothed, but further clothed, that mortality may be swallowed up by life. 5 Now He who has prepared us for this very thing is God, who also has given us the Spirit as a guarantee.
The tent that is mentioned is the physical body. It will be swallowed up by life! The eternal life that is in our spirits now will extend its domain to our physical bodies.
Philippians 3:20-21
For our citizenship is in heaven, from which we also eagerly wait for the Savior, the Lord Jesus Christ, who will transform our lowly body that it may be conformed to His glorious body…
Our new bodies will be just like His body. Glorious, ever young and vibrant. Full of God's power. When Jesus appeared to the disciples in Luke 24:39 He said, "Behold my hands and my feet, that it is I myself: handle me, and see; for a spirit hath not flesh and bones, as ye see me have."
He was proud of His new body! And you will be proud of yours too. It will run on the very life of God! It will be forever young, the way it was supposed to be before sin came into the world.
Our bodies are not the only thing that will change as the full payment of grace comes into manifestation. Paul said the whole creation groans and labors together with birth pangs until now. The whole universe is going to change!
2 Peter 3:10
But the day of the Lord will come as a thief in the night, in which the heavens (universe) will pass away with a great noise, and the elements will melt with fervent heat; both the earth and the works that are in it will be burned up.
This entire creation is going to be burned up and literally born again. Your spirit has been born again, your body will be born again and eventually the whole universe will be born again! It will be a very similar process to what you have already experienced in your spirit, old things will pass away and all things will become new.
2 Pet 3:12
looking for and hastening the coming of the day of God, because of which the heavens (the universe) will be dissolved, being on fire, and the elements will melt with fervent heat? 13 Nevertheless we, according to His promise, look for new heavens and a new earth in which righteousness dwells.
God is going to make a new universe and a new earth. This one was polluted by sin and ruined. It cannot be recycled. It must pass away and be replaced by a new earth and a new universe.
In Revelation, John picks up where Paul left off in 2 Peter. Revelation 21:1
Now I saw a new heaven and a new earth, for the first heaven and the first earth had passed away. Also there was no more sea.
God will make all things new. John goes on to tell us that Heaven, the city of God will come down to the new earth and God will dwell with mankind. He will be our God and we will be His people and together we will live forever in this new, sinless paradise.
And it gets better:
Revelation 21:4-5
And God will wipe away every tear from their eyes; there shall be no more death, nor sorrow, nor crying. There shall be no more pain, for the former things have passed away."
God will wipe every tear from our eyes! He will remove every bit of residue that sin has left on your being. Any scars or wounds that we may have, any regrets or mistakes or failures that cause us pain will be permanently removed by God Himself. Jesus has already paid for it and the full manifestation is coming!
This is the Good News and it is coming soon. There is coming a day when new creations, you and I, will live in a new universe with new bodies and God will dwell in our midst. The Devil and evil will be thrown into the Lake of Fire. There will be nothing left that sin has infected.
Grace has so completely defeated sin that there is coming a day in which it will be as if sin never existed, as if there never was a Devil. It will be as if there never was a fall in the Garden Eden. It will be as if you never sinned or ever made a mistake! It's all because of Jesus. It's about what He did, not about what you did. And where sin abounded, Grace has much more abounded!
Then Jesus will step forward and speak these words:
Revelation 21:6
And He said to me, "It is done! I am the Alpha and the Omega, the Beginning and the End.
It's not over until Jesus says it's over! It's not over yet. When He's finished you won't recognize this place. It will be exactly what He intended from the beginning. A new Heavens and earth in which righteousness dwells.
We are in the middle of the fulfillment of a dream that God has had from before the foundation of the world and it will be accomplished. Nothing can stop God from doing what He sets out to do. Not sin, not the Devil, nor kings, nor rulers of the earth. Nothing and no one can stop God's plan from coming to pass. And we are the beneficiaries!
This is no fairy tale with a happy ending or wishful thinking for weak people who are trying to escape reality. These things are true and they will come to pass for the family of God in due time. This is the Good News that we preach! Where sin abounded, Grace has abounded much more!
The Good News is so good, eventually, there won't be any bad news left!