Get Your Vision Back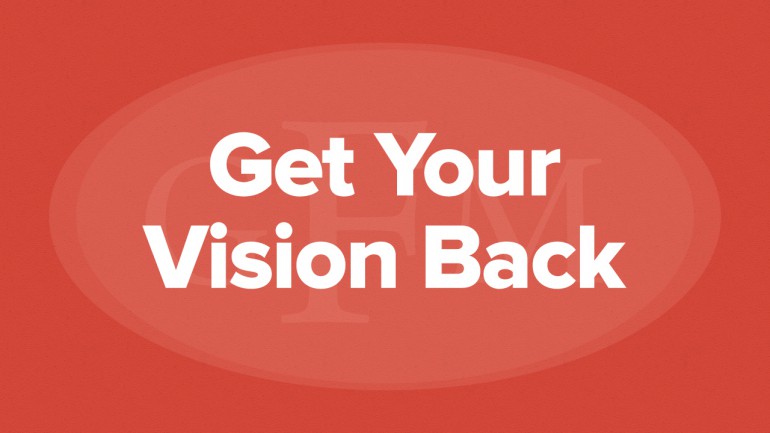 For plundering and violence are before me; There is strife, and contention arises. Therefore the law is powerless, And justice never goes forth. For the wicked surround the righteous; Therefore perverse judgment proceeds.
(Hab 1:3-4)
These words of Habakkuk relate the despair he felt as he looked at the state of his world. It's hard not to have the same reaction to the world we live in today. It seems that things are spiraling out of control. There is so much bad news it's hard to take it all in each day.
Without vision, it's easy to allow despair to set in. However, vision can change your entire perspective. Habakkuk's situation didn't change during this short book in the bible, but by the time God was finished changing his vision, he was shouting and dancing. The first thing God did was give him a reassuring word. I believe this word applies to us today:
Look among the nations and watch — Be utterly astounded! For I will work a work in your days Which you would not believe, though it were told you.
(Hab 1:5)
God is not finished yet. In the midst of the chaos and turmoil, you may not feel you have any voice or influence. You may feel as though you have no control over the direction the world is taking.
Be encouraged, God is not finished yet. He is working behind the scenes. He is working in the hearts of men. He is working on His timetable to accomplish His plans on the earth. God's will shall be done. He can use the unlikely to do the impossible! He can utterly astound the world and the church. His strategies are unstoppable and His power is unlimited. Don't give up hope, it's not over yet!
The next thing God did was remind us of the importance of vision.
Then the LORD answered me and said: "Write the vision and make it plain on tablets, that he may run who reads it."(Hab 2:2)
Don't give up your vision. If you have let it go, get it back, if you've forgotten it, take time to remember what God has promised you about your life, your future, the future of your world. Refresh your memory. Get excited again about the promises God has made to you. Don't let your visions and dreams die. If they have, then have a resurrection.
You were made to run with a vision. That's what gives you the determination to get up every day and do a good job when no one seems to care. Vision gives you the faith to sacrifice and do without, to discipline yourself and do what's right when no one is looking. It is dangerous to live life without vision.
Where there is no revelation (vision), the people cast off restraint.
(Proverbs 29:18)
People who destroy themselves with drugs and alcohol have no vision. People who drop out of school and drop out of life don't see the future rewards of daily discipline. Without the understanding of graduation and future promotion, school seems to be cruel and unusual punishment. It is vision that inspires people to excel day in and day out without seeing any immediate change. Hebrews 11 tells us about our forefathers who ran with a vision.
Some died in faith not having received the promises, but having seen them afar off. (Heb 11:13)
They carried some things in their hearts throughout their entire live. Because of their unwillingness to be robbed of their vision it says:
Therefore God is not ashamed to be called their God. (Heb 11:16)
Losing vision is so devastating to the Christian life that it is one of Satan's major goals in his efforts to defeat you. He cannot steal it, so he will concentrate his efforts on getting you to give it up or throw it down and walk away. When a football player is running down the field with the ball, the opposing players are only concerned about one thing, the football. They want to get the ball back and they will do anything in their power to get it.
Here are some lies that Satan uses to get people to give up their vision:
1. The economy has made it impossible for me to see my vision come to pass.
Since when did money accomplish the impossible? Looking to finances alone to fulfill God's will in your life is like Peter trusting in good weather help him walk on the water. When Peter saw the wind and waves boisterous he began to doubt, because everybody knows you can't walk on water when it's stormy. Since when did clear skies make it possible to walk on water? The economy and the political state of our world does not determine the success of your visions and dreams. The world didn't give you your vision and the world can't take it away!
The economy is not responsible for accomplishing God's plans, God is. He can bring His will to pass when the circumstances are favorable or unfavorable. In Acts chapter 4:26-27 we read:
The kings of the earth took their stand, And the rulers were gathered together Against the LORD and against His Christ. For truly against Your holy Servant Jesus, whom You anointed, both Herod and Pontius Pilate, with the Gentiles and the people of Israel, were gathered together.
The religious and the political world was gathered together to stop God's plan. What was the outcome? They accomplished the plan of God. They did all the leg work, they literally financed the crucifixion. In trying to stop God's plan, they did exactly what God had determined to be done. The world cannot out smart God.
2. It's too late. If my vision was going to come to pass it would have happened by now.
Who are you to tell God what time it is. Just because you think it should have happened already doesn't mean it should have. Don't believe the lie that it's too late. Our concept of time is not at all like His.
But, beloved, do not forget this one thing, that with the Lord one day is as a thousand years, and a thousand years as one day. (2 Pet 3:8)
This just means that God doesn't tell time the same way we do. When God gives someone a vision for the future, He gives them a glimpse of "What" will happen but rarely tells them "When". It's our job to believe it. To run with the vision. We were born to run with vision and not give up. Hold on to the ball and don't let the passing of time talk you out of it.
For the vision is yet for an appointed time; But at the end it will speak, and it will not lie. Though it tarries, wait for it; Because it will surely come, It will not tarry. (Hab 2:3)
Abraham ran with the vision that he would have a son in his old age. He believed this for 25 years. We call him the father of faith, not because he had a son when he was 100 years old, but because he believed it since he was 75. Running with the vision is just as important as accomplishing the vision. You can't have one without the other.
Waiting is part of the process. It is not something to be resented. Noah waited for the flood. Abraham waited for a son in his old age. Joseph waited to become the second in command in Egypt. Moses waited to become a deliverer. Israel waited for their Messiah and we're waiting for our soon coming King. It seems like everyone is waiting for something. That's how it's supposed to be. Believe and wait for it, because it shall surely come!
3. My mistakes have disqualified me for my vision.
If God wasn't able to use people who have made mistakes, He couldn't use anyone. The Bible is careful to include many of the mistakes that our forefathers made. When it comes to mistakes, we're all guilty. The accuser of the brethren is quick to try to make you believe that your mistakes have doomed you and you'll never be what you could have been. However, the bible doesn't say that.
And some of those of understanding shall fall, to refine them, purify them, and make them white, until the time of the end; because it is still for the appointed time.( Daniel 11:35)
God was telling Daniel that many times we are more useful after our mistakes. We are humbled and purified and hopefully wiser after a few wrong choices. Fortunately for us, God is a redeemer, He redeems us from our sins and from our mistakes. Because of this He is able to use imperfect vessels to accomplish His will on earth.
The enemy wants you to give up on your visions and dreams. Don't believe the lies and don't give up! You may not see everything you want to see accomplished in your life and in your world today, but one thing you can do today is run with the vision. We may not be finished yet but we're closer now than when we first believed.
I will close this teaching with the words of Habakkuk, a man who got his vision back:
Though the fig tree may not blossom, Nor fruit be on the vines; Though the labor of the olive may fail, And the fields yield no food; Though the flock may be cut off from the fold, And there be no herd in the stalls –Yet I will rejoice in the LORD, I will joy in the God of my salvation. The LORD God is my strength; He will make my feet like deer's feet, And He will make me walk on my high hills. (Habakkuk 3:17-19)