There's a difference between living forever and eternal life.
The end of our lives here on Earth is just the beginning of an eternal existence for everyone—both Christians and non-Christians.
The world has it exactly backwards. They think that the earth must last forever, and human life is over at physical death. In 1 Corinthians 15, Paul said:
For if the dead do not rise, then Christ is not risen. And if Christ is not risen, your faith is futile; you are still in your sins! Then also those who have fallen asleep in Christ have perished. If in this life only we have hope in Christ, we are of all men the most pitiable. —1 Corinthians 15:16-19
To us, they are asleep. That's a good way to describe it. They still exist, but they just are not conscious of this world. They're asleep to the world.
When God formed man from the dust of the ground, He breathed the breath of life into Adam's nostrils, and he became a living being (Gen. 2:7). This living being will never cease to exist. You see, Adam and Eve were created by the very breath of God Himself. God is an eternal being, and so are the people He created.
Why wouldn't we be? We were created in His image!
According to John 5:28-29, "the hour is coming in which all who are in the graves will hear His voice and come forth." If this scripture is true, and it is, then "all who are in the graves" must still exist. Otherwise, they wouldn't hear or come forth.
The Bible gives us examples of people having encounters with those who have died before them.
Samuel came from the afterlife to speak to King Saul:
Now Samuel said to Saul, "Why have you disturbed me by bringing me up?" And Saul answered, "I am deeply distressed; for the Philistines make war against me, and God has departed from me and does not answer me anymore, neither by prophets nor by dreams. Therefore I have called you, that you may reveal to me what I should do." —1 Samuel 28:15 (NKJV)
"Moreover the LORD will also deliver Israel with you into the hand of the Philistines. And tomorrow you and your sons will be with me. The LORD will also deliver the army of Israel into the hand of the Philistines." —1 Samuel 28:19 (NKJV)
This wasn't a ghost, a demon or an angel. It was Saul!
Moses and Elijah appeared on the Mount of Transfiguration to speak with Jesus.
As He prayed, the appearance of His face was altered, and His robe became white and glistening. And behold, two men talked with Him, who were Moses and Elijah, who appeared in glory and spoke of His decease which He was about to accomplish at Jerusalem. But Peter and those with him were heavy with sleep; and when they were fully awake, they saw His glory and the two men who stood with Him. —Luke 9:29-32 (NKJV)
No one dies and goes back into a state of nonexistence. Everyone goes somewhere, and everyone lives forever—but not everyone has eternal life.
We know that we have passed over out of death into Life by the fact that we love the brethren (our fellow Christians). He who does not love abides (remains, is held and kept continually) in [spiritual] death. —1 John 3:14 (AMPC)
When we only understand physical death, it's a one-way street—you go from life to death. But spiritually, we can go from death to life. And people can abide or live in death. They are not mutually exclusive.
How can someone abide or live in death?
He who has the Son has life; he who does not have the Son of God does not have life. —1 John 5:12
If you don't have Jesus, you don't have life or you abide in death.
Then Jesus spoke to them again, saying, "I am the light of the world. He who follows Me shall not walk in darkness, but have the light of life." —John 8:12
We are all familiar with John 3:16: For God so loved the world that He gave His only begotten Son, that whoever believes in Him should not perish but have everlasting life.
The word perish in this scripture in the Greek means to destroy utterly; in middle voice to perish. The idea is not extinction but ruin, loss; not of being, but of wellbeing.
Eternal life is a gift from God!
And this is the testimony: that God has given us eternal life, and this life is in His Son. He who has the Son has life; he who does not have the Son of God does not have life. —1 John 5:11-12
It's a gift. You don't work for it or earn it, and you don't have it if God doesn't give it to you. It's not something you're born with, and it isn't just living forever as we've already determined from Scripture.
So, what is eternal life?
If we allow Scripture to define it, we can find the answer in John 17:
"And this is eternal life, that they may know You, the only true God, and Jesus Christ whom You have sent." —John 17:3
According to John, eternal life is having a deep, personal and intimate relationship with our heavenly Father and His Son, Jesus.
What a wonderful gift!
There's so much more I have to share on this subject, and I'd like to invite you to take advantage of my FREE OFFER. You can download my audio series, Eternal Life vs. Living Forever at https://gregfritz.org/product/eternal-life-vs-living-forever/. Just use Code Life22 at checkout.
Or, if you really want to go deep, order the Eternal Life Bundle. The USB you'll receive includes:
20 Sessions of "Eternal Life" in Audio and Video Format
Study Notes in Microsoft Word
11 Audio Sessions of "Heaven and Hell"
4-Message Audio of "Eternal Life vs Living Forever"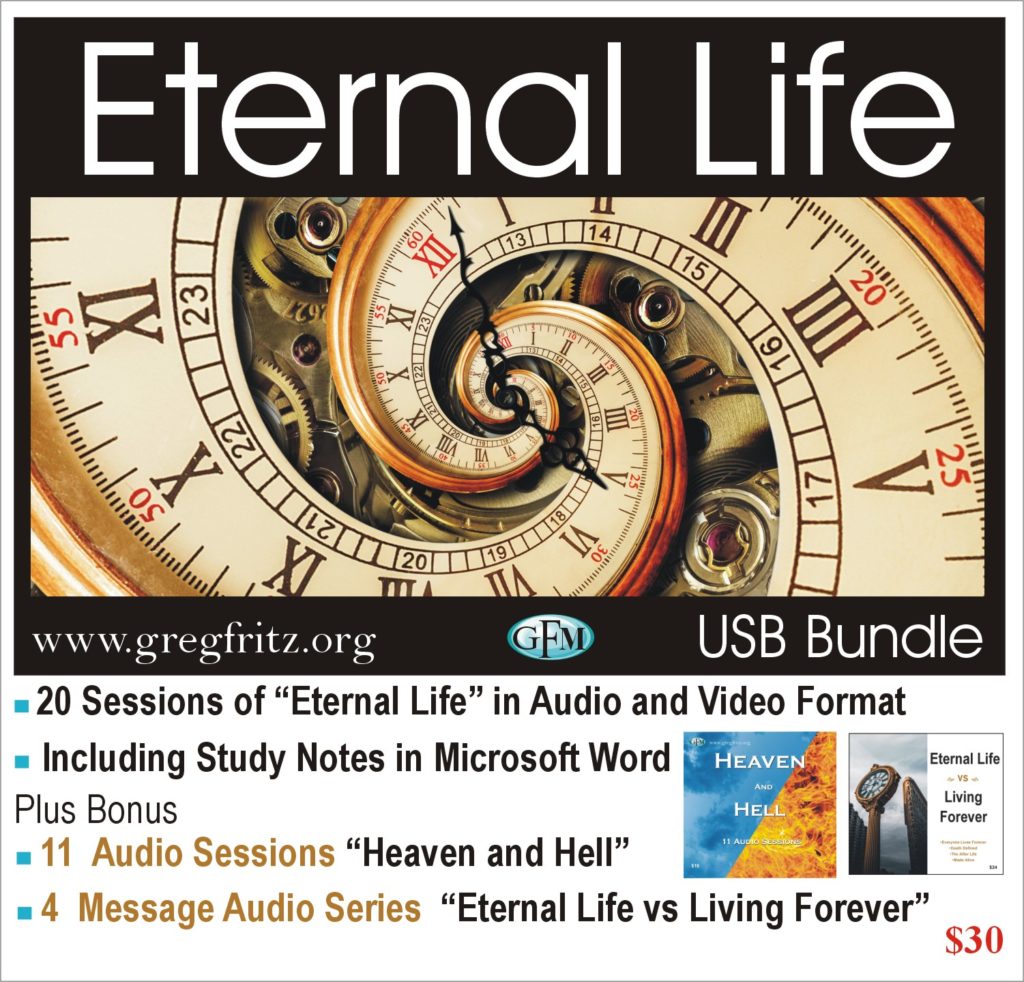 Order your bundle today at: https://gregfritz.org/product/eternal-life-usb-bundle/.