Don't Give Up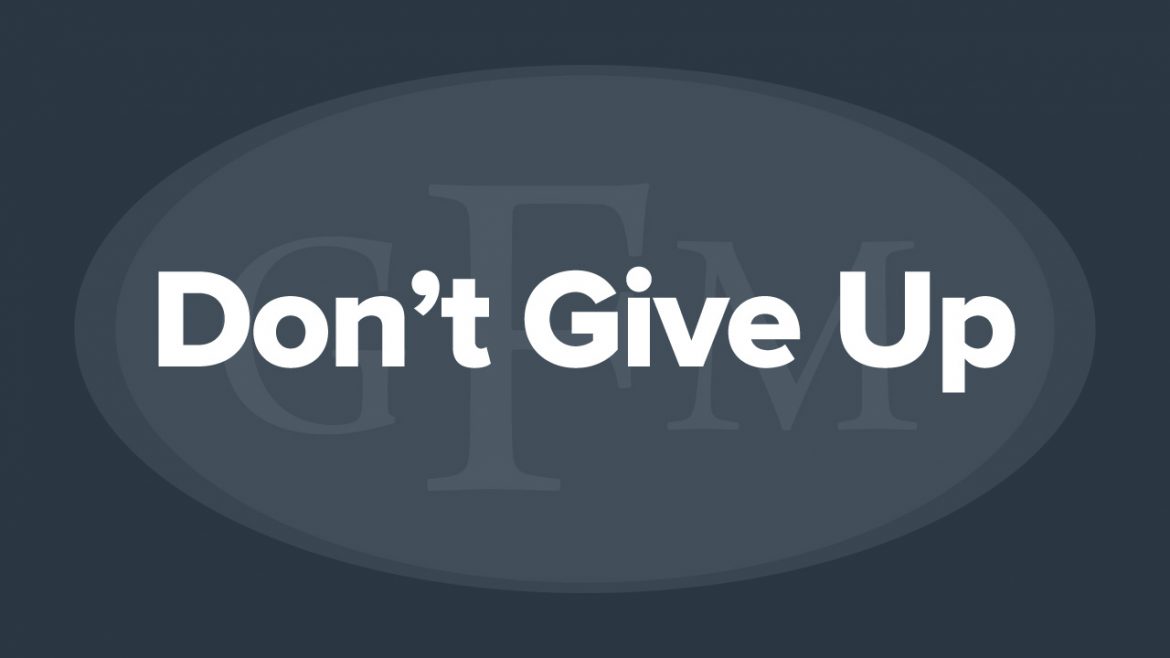 Be followers of those who through faith and patience inherited the promises.
Heb. 6:12
It's normal for a Christian to believe for things that have not yet happened.  We come from a long lineage of people who believed the impossible, held on to the promises of God and saw God do what no one thought He could do.  If you are believing God for things that have yet to happen, be encouraged today.  It's not a burden to believe God's promises, it's a privilege.  Believing is what we do, it's who we are.
God often tells us what He will do but He very seldom tells us when He will do it.  We are to fill in that unknown time period with faith and patience.  We can't necessarily make the promises of God come to pass, but we can believe them until they happen.  Rather than resent the process, we should learn to appreciate it.  Don't give up, don't stop believing, it's not too late!
Joseph is a great example of faith and patience and the Bible makes this statement about him:
Until the time that his word came to pass, The word of the Lord tested him.     Psalms 105:19 (NKJV)
Joseph had a dream from God.  This represents God's promise.  It doesn't have to be an actual dream.  It could be an impression, a conviction or a glimpse into your future that God has given you.  He knows how to communicate His plans and promises.  In Joseph's case it was a God given dream, actually two dreams:
Now Joseph had a dream, and he told it to his brothers; and they hated him even more.  So he said to them, "Please hear this dream which I have dreamed:  There we were, binding sheaves in the field. Then behold, my sheaf arose and also stood upright; and indeed your sheaves stood all around and bowed down to my sheaf."  And his brothers said to him, "Shall you indeed reign over us? Or shall you indeed have dominion over us?" So they hated him even more for his dreams and for his words.  Then he dreamed still another dream and told it to his brothers, and said, "Look, I have dreamed another dream. And this time, the sun, the moon, and the eleven stars bowed down to me."  So he told it to his father and his brothers; and his father rebuked him and said to him, "What is this dream that you have dreamed? Shall your mother and I and your brothers indeed come to bow down to the earth before you?"  And his brothers envied him, but his father kept the matter in mind.     Genesis 37:5-11
This was an awesome day for Joseph.  God was asking Him if he wanted to do something great with his life, to make a difference, be a blessing to his family and Joseph was thrilled.  Once he accepted God's promise everything changed.  Instead of being lifted up as he had dreamed, he found himself in a pit, waiting for his brothers to kill him.  Notice there was no mention of the pit in his dream.  God showed him the end result, but left out nearly all the events in between.  I'm sure Joseph did some soul searching in the pit.  Wondering how this fit into his plan to do something great with his life!  If we could have spoken to Joseph that day we would have told him, "Don't give up Joseph, it's not over yet!"
The brothers decided not to kill him but rather sell him into slavery.  Joseph then found himself en route to Egypt to be sold into slavery.  He was sold to a man named Potiphar and became a slave.  He worked hard at this dead end job and became the best slave in the household.
Far from being rewarded for his hard work and loyalty, he was falsely accused by Potiphar's wife of sexual assault.  Being a slave with no rights, he was throne into prison with no chance of parole.  He was the very definition of a person with no future.  But dreamers dream and believers believe.  That's what we do!
He began his new life as a convict with a sense of purpose.  He was a man who ran with vision, he never quit and never gave up.  He became the best inmate in the prison.  He was put in charge of the entire facility.  Our word to Joseph at this time would be,"Don't give up Joseph, it's not over yet!  God's going to do what He said He would do!"
Over the course of time, a long time, Pharoah had a dream that he could not interpret.  His butler remembered Joseph from prison and suddenly Joseph got the call he had been waiting for his whole life. He was summoned to the palace to meet with Pharoah.  Who knew that a dream about cows would make such a difference in the lives of so many!
Here is the interpretation of the now famous dream of the seven fat cows and seven skinny cows:
Indeed seven years of great plenty will come throughout all the land of Egypt; but after them seven years of famine will arise, and all the plenty will be forgotten in the land of Egypt; and the famine will deplete the land. So the plenty will not be known in the land because of the famine following, for it will be very severe. And the dream was repeated to Pharaoh twice because the thing is established by God, and God will shortly bring it to pass.  
Genesis 41:29-32 (NKJV)
Joseph advised Pharaoh to put a wise man over the entire kingdom and store up grain in the years of plenty in order to prepare for the years of famine.  Pharaoh's reply was, "Who's wiser than you?" In an instant Joseph was promoted to prime minister of Egypt and became the second most powerful man in the world.
Everything in his life went wrong.  Everyone he had ever trusted had betrayed him.  No one was pulling for him for most of his life.  Rather than allowing life to damage him emotionally and becoming crippled by circumstances, he believed God's promise, he ran with vision and everything that happened to him prepared him for the future.  Don't give up on the promises God has made to you!  Run with a vision and live with a purpose, even if you have a dead end job and no one believes in you.  God is the promoter and God is the rewarder.  When God causes promotion, no one can stop it!
Mary is another example of faith and patience.  When she was just a teenager an angel appeared to her with an incredible offer:
Then the angel said to her, "Do not be afraid, Mary, for you have found favor with God.  And behold, you will conceive in your womb and bring forth a Son, and shall call His name Jesus.  He will be great, and will be called the Son of the Highest; and the Lord God will give Him the throne of His father David.  And He will reign over the house of Jacob forever, and of His kingdom there will be no end." Luke 1:30-33 (NKJV)
Very simply she was asked if she would be willing to be the mother of a king, the King, and she said yes!  The words of the angel were very specific and very exciting.  Little did she know, she would spend most of the next three decades wondering how any of it made sense!  God's promises reveal what, but they seldom reveal when or how.
The next thing she knew she was 9 months pregnant with the King.  Julius Cesar made a decree at this time that every citizen in the Roman Empire had to return to the city of their birth for a worldwide census.  Joseph and Mary were from Bethlehem, which was about 70 miles from their home in Nazareth. She was very close to giving birth and had to make the trip to Bethlehem, probably on a donkey.  It could have taken as long as 4 days.
Upon their arrival, there was nowhere to stay.  They eventually set up camp in a stable.  Jesus was to be born in a stable where animals were kept.  You would think the Angel would have gone before them and prepared the best accommodations for the birth of the King!  But things seldom go as you think when you are believing a promise from God.
Jesus lived a fairly normal life from what we can tell, until the age of 30.  It may have looked to Mary and Joseph as if He would never become a king.  His ministry began by being baptized by John in water and then baptized in the Holy Spirit.  He was a very popular but controversial preacher.  He had as many or more enemies as friends.
As a result of jealousy and politics, the religious leaders of the day saw to it that He was falsely accused and sentenced to death.  Imagine, the only man who had never sinned, never done anything wrong, was sentenced to death.  Mary must have been very confused as she watched these events unfold. What about the Angel, what about the promise that He would be a king and sit on the throne of David. She was told that His kingdom would be everlasting.  None of these things appeared to be happening.
He was beaten and nailed to the cross.  As Mary stood at His feet she must have wondered why. "Where is God in all of this?"  "What about the promises?" If we could have encouraged her on that day we would have said, "Don't give up Mary, it may look impossible, but keep believing.  God is going to do what He said He would do!"
She watched Jesus die on the cross and He was buried.  All of her hopes and dreams must have been buried with Him.  It must have been the saddest day in her life.  There are times when it seems it would have been better if God hadn't spoken.  I'm sure she wondered what went wrong.  "What could I have done differently?"  "Where is the Angel, where is God, how can this be?"
Of course we know what happened next.  In three days Jesus Christ arose from the grave and became the King of Kings and the Lord of Lords!  He is seated on the throne and of His Kingdom there will be no end!  God did exactly what He said He would do!  Don't give up, keep believing God today. You may not be able to make His promises come to pass, but you can believe them another day, another week!  This is what we do.  You are blessed to run the race with God's vision of your future.
Abraham believed God's promise that he would have a son in his old age.  He was 75 when God spoke to him and he believed the promise for 25 years!  We still look to Abraham as an example of the God kind of faith.  Not because he had a son at 100 but because he believed it for 25 years.  Those years are precious to God.  It honors Him when we believe the promises.
Your life takes on new meaning when you are believing  promises that look impossible.  You march to the beat of a different drummer!  Remind yourself of the promises God has made to you and get back in the business of faith.  It's the family business!  Take this advice from God to heart:
Write the vision And make it plain on tablets, That he may run who reads it.  For the vision is yet for an appointed time; But at the end it will speak, and it will not lie.  Though it tarries, wait for it; Because it will surely come, It will not tarry.
Habakkuk 2:2-3